Enter the Red Doors to get to
know J
esus Christ,
who is the Door,
The Savior
and Lord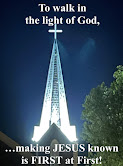 of Life. The center of our Worship is
JESUS whose Love is a banner over us
(After entering, notice the sign overhead). Find new
Hope for life and grow in a Faith
relationship with God.
First Presbyterian Church is here for you
. . . . a church for all ages!
We abide in the Word as we practice what we
learn and grow together in Christ.
May God richly bless you always!
We are praying for you!
Adult Sunday School at 9:30 a.m.
Sunday Worship at 11:00 a.m.
(Hearing assistance devices available)
(grades 2nd – 8th grade) at Noon